Home - Sheet Music Index - Song Lyrics - Row, Row, Row Your Boat sheet music
The lyrics to Row, Row, Row Your Boat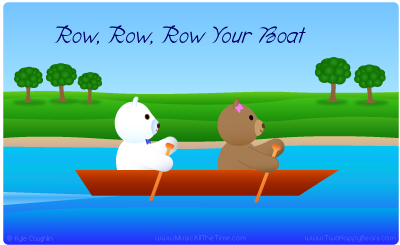 Not much is known about the history of Row, Row, Row Your Boat, but nevertheless, it is one of the most popular children's nursery rhymes. The lyrics are very simple, making it easy for youngsters to memorize, and the poem has a nice, lilting, catchy rhythm. There are many variations on the poem, but best known lyrics are shown below.
Visit the main Row, Row, Row Your Boat lead sheet page for the sheet music to the song in seven keys for piano, recorder, woodwinds, brass, and all string instruments, as well as its history. Visit Fluffy and Ivy at www.TwoHappyBears.com.
Row, Row, Row Your Boat lyrics:
Row, row, row your boat,
Gently down the stream.
Merrily, merrily, merrily, merrily,
Life is but a dream.