Row, Row, Row Your Boat sheet music
Scroll down for a lead sheet for Row, Row, Row Your Boat that includes the melody and chords, with versions of the song in seven different keys. There are also links to the song for piano, recorder, woodwind, brass, and string instruments. Row, Row, Row Your Boat is a great song with which to learn the 6/8 time signature because of its flowing, memorable rhythms.
The history of Row, Row, Row Your Boat
Row, Row, Row Your Boat is a very popular children's song and nursery rhyme that dates back to at least the 1850s or earlier. Publications of the song from the mid nineteenth century feature different melodies, but eventually musicians settled on the one that is included below. Although we cannot be sure who wrote the lyrics or the music, the poem is sometimes attributed to Eliphalet Oram Lyte, who was an American teacher and author. The song is often sung or performed as a round, with different groups echoing each other after each line.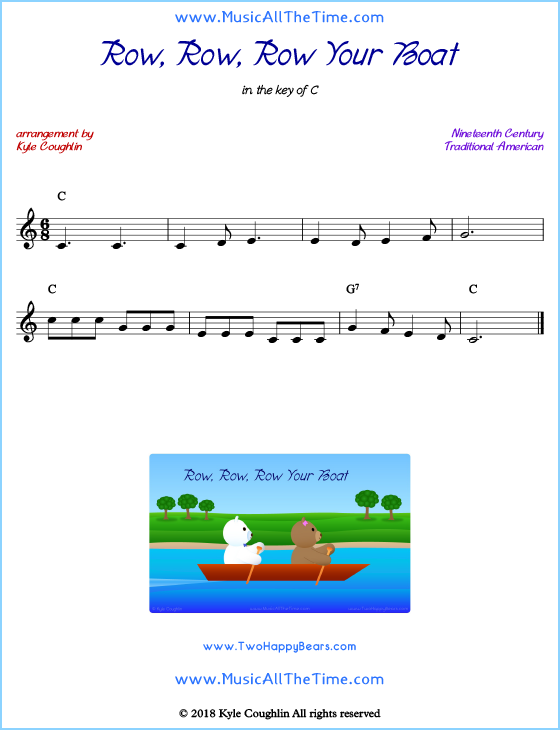 Row, Row, Row Your Boat for band instruments
Row, Row, Row Your Boat for string instruments
Row, Row, Row Your Boat for piano
Row, Row, Row Your Boat for recorder
Row, Row, Row Your Boat for flute
Row, Row, Row Your Boat for oboe
Row, Row, Row Your Boat for clarinet
Row, Row, Row Your Boat for bassoon
Row, Row, Row Your Boat for alto saxophone
Row, Row, Row Your Boat for tenor saxophone
Row, Row, Row Your Boat for trumpet
Row, Row, Row Your Boat for French horn
Row, Row, Row Your Boat for trombone
Row, Row, Row Your Boat for tuba
Row, Row, Row Your Boat for violin
Row, Row, Row Your Boat for viola
Row, Row, Row Your Boat for cello
Row, Row, Row Your Boat for bass
Treble clef versions of Row, Row, Row Your Boat:
In the key of A
In the key of B flat
In the key of C
In the key of D
In the key of E flat
In the key of F
In the key of G
Bass clef versions of Row, Row, Row Your Boat:
In the key of A
In the key of B flat
In the key of C
In the key of D
In the key of E flat
In the key of F
In the key of G
Alto clef versions of Row, Row, Row Your Boat:
In the key of A
In the key of B flat
In the key of C
In the key of D
In the key of E flat
In the key of F
In the key of G